The Los Angeles County Board of Supervisors voted to award a settlement of $2.75 million after the man who sued them for excessive force and wrongful imprisonment during an arrest in 2013 was beaten by deputies, leaving him with permanent injuries.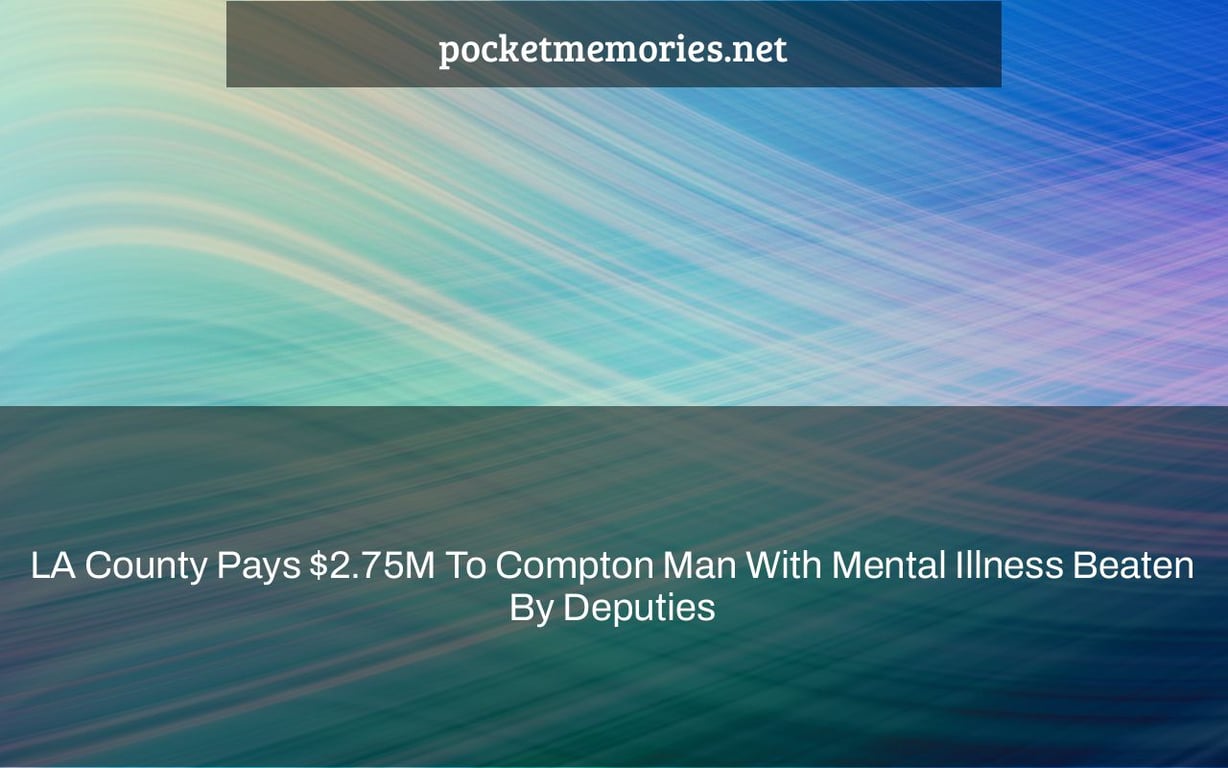 (CBSLA) – LOS ANGELES (CBSLA) – A $2.75 million compensation was granted by the Los Angeles County Board of Supervisors on Tuesday for a mentally ill Compton man who was abused by L.A. County Sheriff's officers during an arrest in 2014.
On July 14, 2014, Barry Montgomery was beaten by Los Angeles County Sheriff's officers. (CBSLA)
READ MORE: Report: The Safeguards on a Leaking California Oil Pipe Aren't Working
According to the sheriff's department at the time, officers met then-29-year-old Barry Montgomery at Enterprise Park on the evening of July 14, 2014, after smelling what they thought was marijuana.
Montgomery shouted at the cops, named a Compton-based street gang, and then threatened them, "I'm going to murder both of you with my deuce-deuce," according to a report supplied to the board by sheriff's deputies.
The purported reference was to a pistol with a caliber of.22 caliber.
According to the two sworn officers, Montgomery then threw an unwarranted punch on one of the deputy's shoulders as the guy dodged.
A third officer came on the scene after the two deputies requested assistance. In a battle they described as attempting to bring Montgomery under control while afraid he was going for a weapon, all three acknowledged to hitting Montgomery many times.
Montgomery had been classified as a schizophrenic with Tourrets syndrome, was extremely shy, and was on medicine when he went to the park to play basketball, according to family members at the time.
READ MORE: Efforts to recall LA County DA George Gascón heat up as he touts first-year accomplishments
"Because he doesn't answer, they beat him for no reason." "He doesn't reply and he doesn't speak," a family member said.
Montgomery was eventually handcuffed and taken to the hospital, where he suffered multiple injuries. According to Paulette Simpson-Gipson, then-president of the NAACP's Compton chapter, he sustained facial fractures, including a cracked eye socket, and seven broken ribs, among other injuries.
He was ultimately charged with resisting arrest as a felony and marijuana possession as a misdemeanor. Two of the three deputies gave contradictory evidence concerning their use of force at a preliminary hearing. After the court deemed Montgomery mentally unfit to stand trial and ordered outpatient therapy with the Department of Mental Health, the charges were finally withdrawn.
The NAACP demanded a federal probe in August 2014, alleging that Montgomery was pummeled for 25 minutes while handcuffed.
"We find no justification for Mr. Barry Montgomery's cruelty," Simpson-Gipson remarked at the time. "His civil rights were clearly violated by the beating."
According to the board report, Montgomery's family claimed that officers discharged their firearms, shot Montgomery with a stun gun, and pulled him into an adjacent lavatory to attack him in their lawsuit against the county.
The acts of the three officers were deemed to be within department policy by the sheriff's department Executive Force Review Committee in 2015.
MORE NEWS: Man Caught On Camera Steals $100K Safe From Monk's Room At Santa Ana Buddhist Temple
(CBS Broadcasting Inc., Copyright 2021, All Rights Reserved.) This article was written with the help of City News Service.)